Mitral Edge-to-Edge Repair
Mitral Edge-to-Edge Repair

What is mitral edge-to-edge repair?
Transcatheter mitral edge-to-edge repair (TEER) is a technique used to repair a leaking mitral valve (mitral regurgitation) without open heart surgery.

Dr Dawkins uses both the MitraClip and Pascal devices for these procedures.

How does mitral edge-to-edge repair work?
A repair device (Pascal or MitraClip) is delivered on its delivery system (a long steerable tube) into one of the veins in the leg. It is steered into the heart using x-rays and ultrasound. The mitral valve leaflets are grasped over the leak and the device is closed. If this has reduced the leak sufficiently, then the clip can be released. If not, the clip can be moved or re-orientated as needed. Some patients may need more than one clip. In most patients, mitral regurgitation can be reduced from severe to mild or less.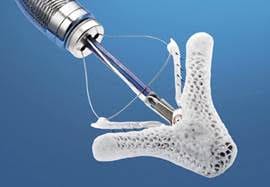 Who is mitral edge-to-edge repair recommended for?
Mitral transcatheter edge-to-edge repair is currently recommended for patients with symptomatic (that means having symptoms, usually breathlessness) severe (assessed with echocardiography) mitral regurgitation (leaking mitral valve) who are at increased risk for open heart surgery. There are many reasons why someone may be at increased risk for open heart surgery - for example, previous heart surgery, other significant medical problems (e.g. liver or lung disease), frailty.

What is the process for deciding to treat someone with this technique?
Generally you would be referred by your GP or cardiologist. You would then be assessed in clinic by Dr Dawkins, which may include additional investigations. Once we have all the necessary information, we will discuss you at one of our regular mitral valve meetings. These are attended by interventional cardiologists, cardiac surgeons, imaging experts and anaesthetists. If the consensus is that this would be a good treatment for you, and you would like to go ahead, we will offer you a procedure date.

What can I expect from the procedure?
We can generally arrange the procedure within a few weeks. Most patients are admitted on the morning of the procedure. The procedure is carried out under general anesthetic (you will be asleep). The procedure usually takes around two hours. Afterwards, you will wake up on our recovery ward and will then be transferred back to the ward. Most patients stay in hospital for one night. Dr Dawkins will see you in clinic a month or so after the procedure, but can be contacted in the interim if you have any queries or problems.

What experience does Dr Dawkins have in mitral edge-to-edge repair?
Dr Dawkins trained in mitral intervention at Cedars Sinai Medical Center in Los Angeles, which is the largest valve centre in the world. He is one of the UK's most experienced mitral valve operators, with expertise in mitral repair (with both the Pascal and MitraClip devices) and percutaneous mitral valve replacement. He started the mitral repair programme in Oxford and trains cardiologists in the technique in hospitals around the world. He also has expertise in tricuspid valve intervention, in particular the use of Pascal and TriClip to treat severe tricuspid regurgitation.
Dr Dawkins has private clinics in Oxford at the Nuffield Manor Hospital and in London at Cleveland Clinic London. Please get in touch if you would like to make an appointment. We can usually arrange to see you within a few days. For urgent appointments, a same-day visit or telephone consultation can often be arranged. To arrange an appointment, please complete this form or call us on 020 7205 2024 (London) or 01865 598040 (Oxford).